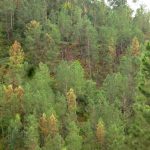 The pinewood nematode (Bursaphelenchus xylophilus) invades the stems and branches of pines causing a sudden wilting and death of pine trees. In Europe, the species is currently established in Portugal only but can potentially spread to other conifer species or to other countries.
Pinewood nematode risk workshop 3: Disseminating the risk management plan
Pine wood nematode risk workshop 2: Evaluating the risk management plan
14 March 2019 in Cestas (France)
20 November 2018 in Santa Ana (Spain)
Minutes (ES)
Pine wood nematode risk workshop 1: Towards early warning detection methods

26 January 2018 in Oeiras (Portugal).
This workshop is part of the series of transnational training workshops organised by the PLURIFOR project. Transnational training workshops aim to exchange know-how about forest risk management between partners and associated partners of the project.
Output
Regional reports
Reports describing how the pinewood nematode risk was managed in the concerned regions at the beginning of the project, in 2016:
Summary report
Report summarising the management of the eight risks in the concerned regions at the beginning of the project, in 2016:
Contacts
Aquitaine: Hervé Jactel (INRA) – herve.jactel @ inra.fr – coordinator
Castilla y León: Jorge Casado (TRAGSA) – jcaa @ tragsa.es
Portugal: Edmundo Sousa (INIAV) – edmundo.sousa @ iniav.pt